Project Overview
Over the last two years MNSolutions has been supporting Acciona on the São Paulo Metro Line 6 project – the largest infrastructure project currently under construction in Latin America. The line will provide an essential high-capacity subterranean rail link connecting the northwest zone and the city centre. With an estimated daily ridership of 630,000 passengers, this project will significantly reduce car trips and pollution in the region. Read the earlier case study here.
The construction program for the line is progressing with the 15 underground stations simultaneously. Santa Marina is currently one of the most advanced with just over 41% complete. Once operational, the forecasted peak hour demand for the station is almost 12,000 passengers.
How Oasys proved invaluable
MNSolutions utilised pedestrian experience design software Oasys MassMotion extensively in the development of the passenger flow and station capacity studies for all the line's stations. The studies have evaluated peak hour 'Normal Operation' as well as an 'Evacuation' scenario, to ensure that the planned infrastructure will enhance user experience by providing a safe and comfortable environment for all users.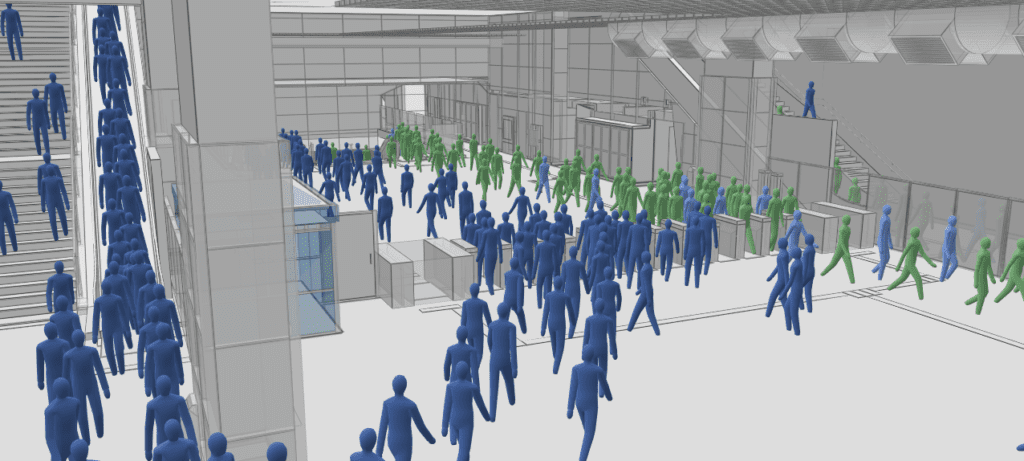 The ability to seamlessly incorporate BIM projects, simulate, analyse and then present results in a clear 3D environment has significantly benefited the design process. The potential to visualise passenger movement within the entire project, in a single interface has been invaluable to understand what is happening and where.  
Throughout the design process, the architectural teams, Tetra Projetos and Fernandes Arquitetos, managed by Acciona's Design Manager, Abraham Asis, have paid special attention to add sustainability and accessibility parameters to the station projects. Abraham notes:
"An important benefit we have seen of using MassMotion has been the ability to incorporate elevators into the simulations and really understand the movement and requirements of passengers with reduced mobility. We have been able to ensure that their routes are convenient and accessible and ensure that conflicts with other passenger flows are minimised".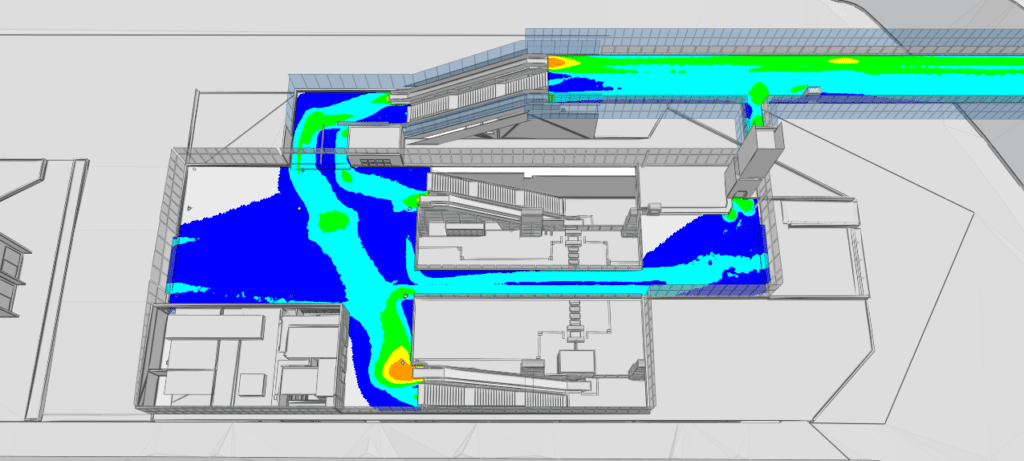 The following video of Santa Marina station shows MassMotion's fly-through camera capability, coupled with the detailed architectural BIM model, providing a realistic representation of how the station will perform during the peak hour.
MNSolutions is a specialist urban mobility and crowd flow consultancy that works with clients in the assessment, design and development of transport infrastructure (stations, airports etc.), venues and events. The company has extensive experience of working with multidisciplinary design teams and supporting clients to help them understand the mobility needs and impacts associated with their projects. If you think that MNSolutions could help you, please feel free to contact Mike Nicholson at [email protected]. 
Oasys would like to thank Acciona and MNSolutions for sharing this work with us.
Find out more about Oasys MassMotion's capabilities here.