Project Overview
As part of a project to design and build a new Event Centre with a capacity of 20,000 guests, designers needed to understand crowd behaviour in order to properly size the vestibules and concourses. Entuitive used Oasys MassMotion to model the ingress, egress, and intermission scenarios for multiple vestibule and concourse designs to ensure the layout and size of these elements provided the optimal fan experience.
Ingress 
Entry vestibules were sized to accommodate current mag and bag security equipment, which consisted of a walkthrough metal detector with adjacent bag searches. The relatively low throughput of this system dictated the vestibule size and number of equipment lines needed to ensure the maximum expected queue time for different categories of ticket holders to meet the client goals. This is common for sport venues to allocate such large areas to security processing and ticket taking.  
However, the same design was also assessed using contactless walkthrough security systems which have up to ten times the throughput. While not formally allowed by some professional sports leagues, understanding how this future technology impacts the layout and performance of the space allowed the design team to proactively design for this future scenario. They were able to determine the best way to make use of the reclaimed space for revenue generating functions, such as more concessions or retail.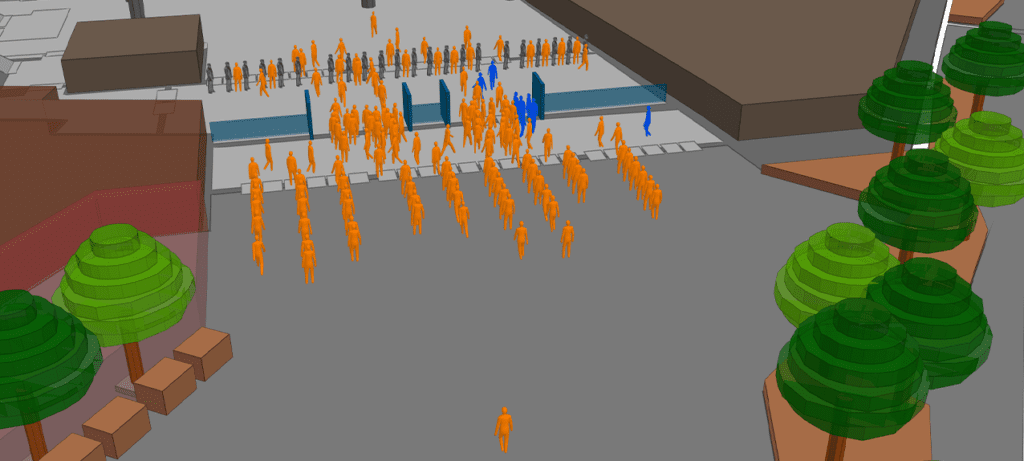 Intermission 
This same project also leveraged pedestrian modelling to test concourse layouts and ensure the placement of washrooms and concessions was optimised for a range of event types and capacities. This allowed for the concession throughput to be improved with a direct benefit to revenue.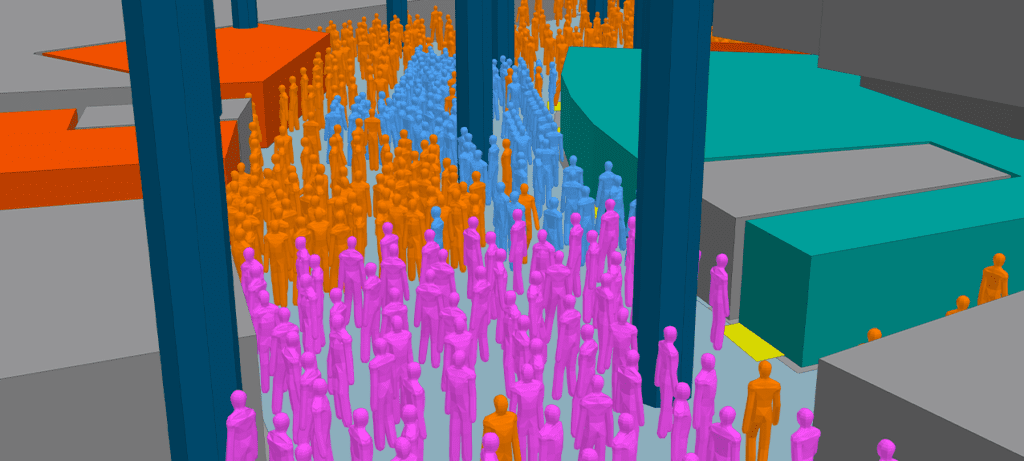 The concourses Level of Service was also a concern during the intermission periods. Density maps were created to determine both the Walkway and Queueing Level of Services during intermission and were used to relocate or expand concessions and retail in areas that were found to be too busy. In the case of an NHL game, for example, the intermission was assessed for both regular season and postseason games since the volume and expectations are quite different in these scenarios. Suggestions for more concessions and retail were also made in areas found to be underutilised, as well as understanding where portable vendors could be placed depending on event type.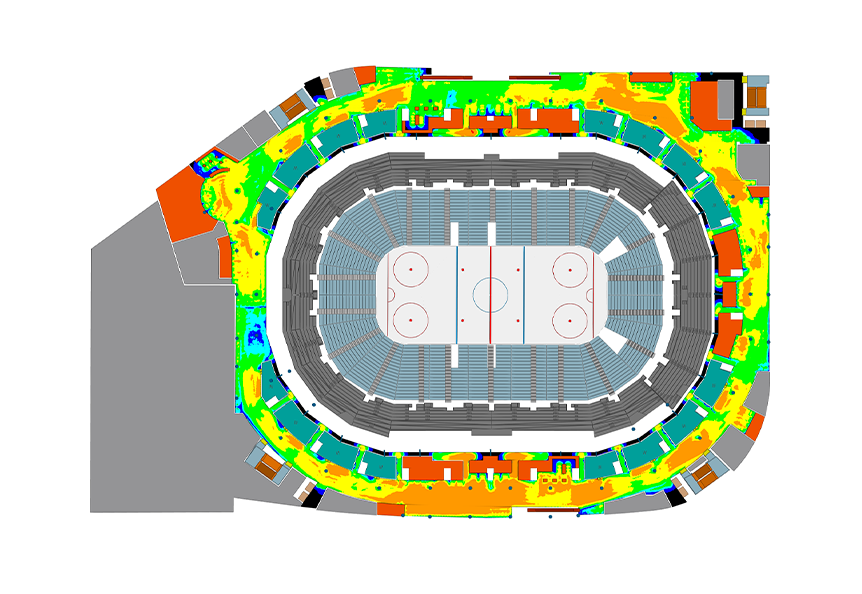 How Oasys proved invaluable
The four steps to designing a model in MassMotion are Create, Simulate, Analyse and Revise – the key strategy to enhancing designer experience. These stages offer new ways to provide even greater flexibility to model pedestrians and put people at the heart of the design process.   
1. Create 
Entuitive was able to leverage their team's BIM of the stadium to quickly create the geometry of the MassMotion model. As the design progressed, each time the stadium design and layout were updated, the BIM could easily and quickly be imported to and combined with the MassMotion model without needing to manually move or create new geometry. This ensured the pedestrian model was always coordinated with architectural, food and beverage service, and security layouts.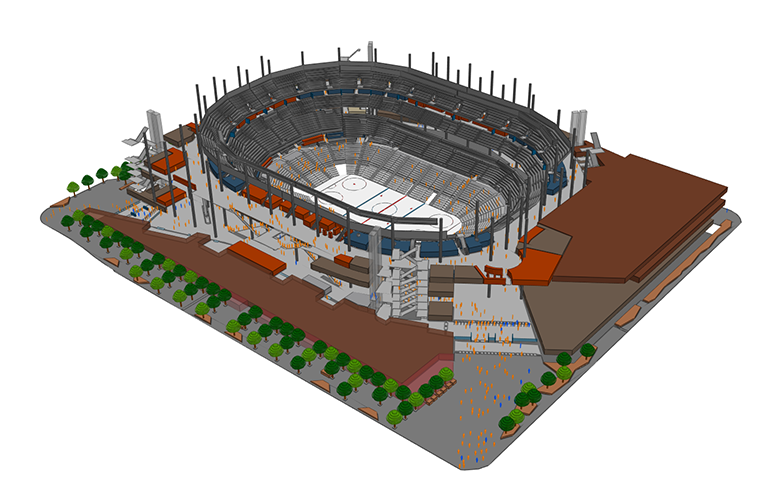 2. Simulate 
The simulation runs allowed for both security processing and ticket taking options to be visualised for all project stakeholders to understand how the contactless security system impacted the arrival experience for all guests. 
3. Analyse 
MassMotion made it possible to quickly test different layouts of the vestibules and concourses in order to inform the design of the stadium. Multiple sensitivity tests were completed to determine the size of the vestibules required at each entrance and to determine the location and sizes of concessions and restrooms required to meet a comfortable Level of Service during intermissions. Stakeholders could understand the impact of these decisions using quantifiable output from the model, as well as visually seeing the difference with simulations of each option. 
4. Revise 
Entuitive was able to leverage their analysis from the model to be able to optimise the amount of space available in the stadium for revenue-generating services such as concessions, retail, and seating, all while collaborating with the design team and project stakeholders to keep the user experience at the forefront of all decisions.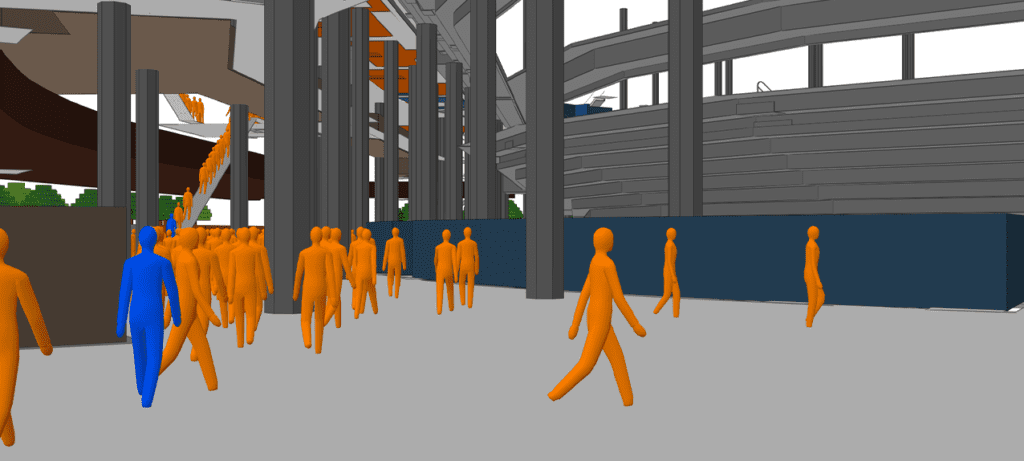 Entuitive is a consulting engineering practice bringing together engineering and intuition to enhance building performance. They are taking design performance to new heights through their collaboration with clients including architects, developers, building owners, managers and construction professionals.  
Their practice encompasses integrated structural engineering, building envelope, restoration, and special projects and renovations consulting services for both new construction and existing buildings. They believe deeply in achieving better design through technology. Their focus on innovation leverages BIM and other advanced tools to solve complex structural and design challenges allowing their clients to realise their vision in an efficient and cost-effective manner. 
Read more about Entuitive's pedestrian modelling here.  
Oasys would like to thank Entuitive for sharing this work with us. 
Find out more about Oasys MassMotion's capabilities here.