Oasys MassMotion
Created to solve a clear need, Oasys MassMotion is a solution which empowers users to test the impact of crowd flow on their design and operations. Existing crowd simulation solutions were too slow, difficult to communicate to stakeholders, and did not fit neatly within design workflows. MassMotion fits within BIM workflows and has an increasing focus on automation and customization so you can focus on the value of your space and not the modelling process.  
Why should I buy it?
Oasys MassMotion is for building designers and operators who want to ensure their spaces perform efficiently and safely. It has wide use across fire egress, transport and aviation planning, and architecture firms across a large variety of spaces. If you design or operate buildings where crowd impacts need to be managed (infrastructure, retail buildings, event and entertainment spaces, campus planning, public realm, and more), MassMotion can help.
Oasys MassMotion helps take risk out of design and operational changes by testing these changes rapidly in an accurate virtual environment. It helps communicate the value of design changes from a human perspective, focusing on benefits to clarity of movement, removal of bottlenecks, and clear egress time. This can help reduce cost in the planning and construction stages of your project, and mitigate risk. It can also be used in performance-based design for more creative and efficient designs.
Oasys MassMotion allows users to test the impact of crowd flow on their design and operations:
Import geometry, establish parameters such as population and schedules, and quickly run/test different scenarios and run a range of analyses.
Understand congestion hot spots, wait time, and other spatial performance metrics and then run scenarios to understand the impact of changed parameters.
MassMotion is based on comprehensive research and validated for a range of conditions including emergency egress.
MassMotion Software Development Kit - Provides direct access to the MassMotion crowd engine for custom behaviours or connections to other software tools.
You must be logged in to access this product's trial download, please login or register.
Capabilities of MassMotion
MassMotion version 11 contains a number of new features to both better communicate the impact of people on the design and operations of spaces, and to help automate models. Highlight features include:
New agent avatars: MassMotion playback has been enhanced with new animated avatars, giving more flexible cosmetic representation of different user types. Agent height can also be scaled to improve first person views.
Dynamic flythrough cameras: The new Camera object can be used to bring MassMotion models to life in new ways. The camera creation system can easily create simple flythroughs for newcomers, and is flexible enough to pinpoint key scenes and times for experienced users. For an example of the new camera output, please click here.
Billboards: Enhance the legibility of MassMotion models through the new Billboard object, which allows users to easily place signs showing text and times throughout the scene. These can also be customised to report key analytics during playback, such as showing the number of people in a queue or counting down time until the next train.
Easier scripting and automation: building on the flexibility of the MassMotion Software Development Kit, the new Script object can be used to automate and customise all aspects of the modelling process, further establishing MassMotion as the most flexible human movement software available. Scripts can be easily shared between projects and can achieve a number of advanced behaviours: running multiple simulations, switching between scenarios by enabling and disabling objects, and changing agent behaviour dynamically. In addition to the new script object, new documentation has been added to aid people new to scripting with MassMotion, and the SDK has been further enhanced.
Other improvements: as with all MassMotion releases there are a number of usability and stability improvements, such as changes to geometry import systems, graphics performance upgrades, touchscreen support, and several new features targeted towards making the modelling process easier for users working on large commercial buildings.
MassMotion 10.5 introduces multi-language support for the first time! The second language available for our MassMotion users is Chinese: MassMotion will continue to add additional languages depending on demand. For more information on how to obtain a Chinese version, please contact us.  Version 10.5 also includes improvements to BIM geometry import and additional features. A summary of features added in this version is listed below: 
Chinese language support – 

the user in

terface and 

user guide have both been translated

 into 

Simplified Chinese

 

Improved IFC import

 – 

a n

ew system for IFC import has been developed, allowing an order of magnitude speed increase than the previous system

, also including import of only certain classes which can further streamline the import process

 

Elevator Improvements

 – new 

E

levator analysis options are included to 

better 

understand agent wait time and elevator efficiency

. 

In addition, improvements have been made to 

agent behaviour when choosing between routes that include elevators. 

For more information on elevator route choice, please consult the MassMotion user guide included with the software

Wait Space and Process Chain chan

g

es

 – 

Process Chains can now use W

ait 

Spaces 

when full: this allows for detailed 

modelling of conditional queuing in areas such as airports, busy art galleries, and sport

ing events

 

Usability improvements 

– 

improvements have been made to 

OD matrix demand import, now allowing 

direct 

.csv import. 

Graphics performance for nearly overlapping objects has also been improved

, as well as other additional changes

 including a new help viewer

 

Software 

Development Kit 

improvements

 – 

features continue to be added to the MassMotion Software Development Kit to further extend MassMotion using code: feel free to contact us for a detailed list of capabilities.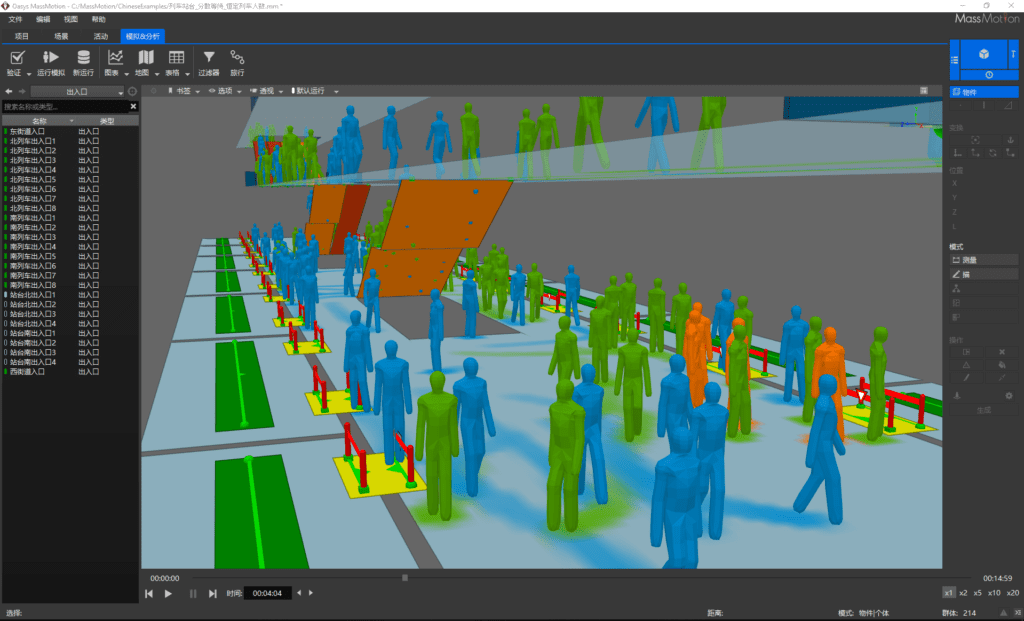 MassMotion 10 includes several exciting new features that provide even greater flexibility to test designs and put people at the heart of the design process. A summary of features added in this version is listed below:
Elevator functionality – model single elevators or banks of elevators with full control over capacity, movement and door timing parameters, and different behaviours to make modelling a range of facilities and elevator operations possible
New network objects – easily define routes for subsets of the population and have agents react to these dynamically using the Action system. For instance, maintain your existing origins and destinations using MassMotion's route finding capabilities, but understand the impact of some agents not being able to traverse stairs and escalators throughout their journey without stepping agents through the scene point by point
Tally objects – store emergent quantities during simulations, further extending the powerful Action and Trigger objects to dynamically change behaviour for sections of the population
Unicode support – import various geometry types with full Unicode support
Software Development Kit updates – features continue to be added to the MassMotion Software Development Kit to further extend MassMotion using code: feel free to contact us for a detailed list of capabilities.
Combine 2D and 3D assets – A purpose built, object-based interface has been developed for our software, that enables users to rapidly develop pedestrian environments using imported CAD/BIM geometry. Import a 3D model from a wide range of products including AutoCAD, MicroStation, Sketch-Up, Rhino and Revit. MassMotion supports Industry Foundation Classes (IFCs) which enable MassMotion to sit directly within BIM workflows making use of your rich data sets.

Once your geometry is in place MassMotion provides tools to rapidly classify objects that form a pedestrian network including floors, doorways, stairs and escalators. If your geometry is imported from an IFC file MassMotion can automatically determine the classification of objects from the IFC metadata. Files from all leading CAD programmes can be imported and combined.
Compatible with your favourite tools
SketchUp
3DS Max
Autodesk Revit
Autodesk AutoCAD
Rhino
Graphisoft ARCHICAD
Vectorworks
Bentley Microstation
FBX and DXF
You can also create 3D environments from scratch, including a range of objects such as barriers, escalators, stairs or ramps with inbuilt polygon modelling tools. These environments can be simulated with an unlimited number of agents – allowing you monitor pedestrian flow and identify crowding issues. This platform allows you to test new ideas and refine ideas until the desired outcome has been achieved.
There are four main scheduling options;
Journey
Circulate
Vehicle
Evacuate
Journey and circulate allow you to designate a route for agents to take and determine whether or not you require them to circulate. The vehicle scheduling event allows you to schedule arrival, boarding and alighting times of vehicles to and from specific zones. Simulating evacuations using MassMotion provides multiple variables open to manipulate. Set designated exit zones in addition to timings, agent origins and count.
Defining crowds, agent counts and agent journeys has been improved in version 9.5 with new OD based options for specific journeys, normal circulation and evacuation. Specify agent counts by origin and destination within the model, and the rates and times at which agents are created in the model can be tailored to the specific project.
In MassMotion it is also possible to drive simulations using the Timetables feature which allows you to use spreadsheets to define and manipulate agent activities.
Using a high-performance database to store and retrieve simulation results, you can rapidly analyse designs using a variety of built-in graphing, mapping and filtering tools. This system is highly scalable for large crowds and for simulation scenarios that cover multiple days. Leveraging the 3D capabilities of our software, the analysis system enables users to develop custom insights based on spatial, temporal, operational, and personal characteristics of people and their environment.
It is also customisable – you can create custom analyses such as queuing times and lengths, how long it takes for people to get from one point to another, level of comfort, retail footfall, and optimum signage locations based on spatial, temporal, operational, and personal characteristics.
All of which can be presented as easy-to-understand graphs and visuals.
The industry's first software development kit gives users complete control over the advanced algorithms used, the simulation and the agents within. Used widely within Universities for research purposes, it will help you create an environment that fits your exacting requirements. The SDK is available to all subscribed MassMotion users, click here for the latest user guide.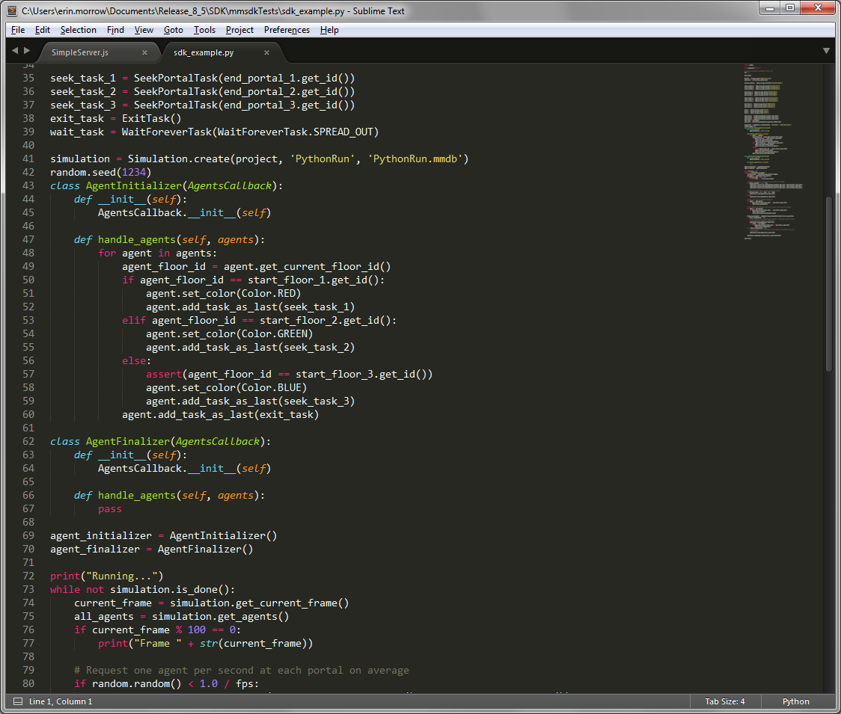 MassMotion is verified in accordance with the International Maritime Organisation (IMO) 1238 and the National Institute of Standards (NIST) Technical Note 1822.
You can download a copy of the Verification and Validation document here.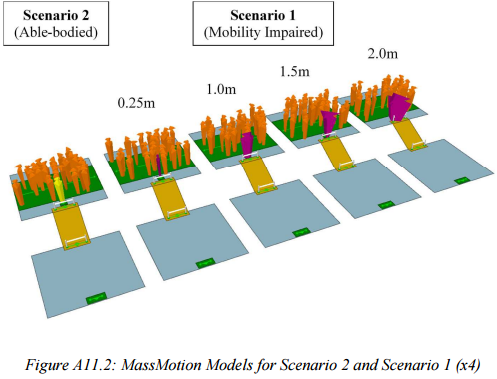 The movement of passengers is highly complex especially in large transport hubs such as train stations and airport terminals. Taking airports as an example, there are multiple check-in desks with passengers going to hundreds of destinations on any single day. A set number of passengers will frequent each of these desks at specific times during the day, and then travel to their respective departure gate. The larger airports can expect hundreds of thousands of arrivals, who will move through a specific route, usually collecting luggage before leaving the airport. MassMotion allows users to create these complex timetables such as arrivals, boarding and departures using a simple Microsoft Excel import.
You can also assign specific properties to individual or groups of agents such as fast track tickets, target end destinations or even the feeling of hunger– prompting them to search for food outlets. For example, a group of travellers waiting to check-in at an airport can be divided by those with economy tickets and those with other classes of tickets, they will then be checked in at the appropriate desk.
Each simulated agent has their own agenda and will respond to changes in the environment around them in real time based on academic research and social modelling. For example, they may choose to take the stairs when faced with congestion at an escalator, or join the queue for a turnstile that has just switched from closed to open. Furthermore, changes to design geometry are automatically incorporated, enabling you to easily test, re-design and re-test without the burden of reconfiguration.
The actions manager allows users to control the simulation in more detail. Logical and probability action graphs can be applied to agents throughout their journey to change their tasks or individual properties. Triggers can also be defined that apply action graphs to agents based on crowding levels or other events in the scene. This is a powerful way to describe complex activities and enables MassMotion to cover a vast number of use cases such as check-ins based on cabin class and baggage requirements or to have agents choose an alternate restaurant if their primary choice is full.
Explore MassMotion Applications
Request a Trial Submission Form
Further Information
The trials are limited for 14 days only, and there is no functional limitation. During the evaluation period you will only be able to use the software for test purposes and not for commercial paid work, and for the duration we will support you to get the most out of your test. System requirements can be found in the FAQs.
All we ask from you are some details so we can contact you to issue you with the installation file.
Once you submit your details, a customer service agent will contact you and provide the free trial installer.
Existing customers who are fully maintained can download the latest versions of their software on demand from their personalised customer licensing portal.
Your login ID and Password for the portal is not the same as your website account. You can find your login details in your purchase confirmation email. Alternatively you can request for your login details to be sent to you by emailing [email protected].
We offer a limited-duration trial license for you to assess the suitability of our products for your projects.
During the evaluation period you will only be able to use the software for test purposes and not for commercial paid work, and for the duration we will support you to get the most out of your trial.
All we ask from you is some details so we can decide whether you are eligible for a trial.
Compatible with most modern day Windows operating systems.
The full conditions of purchase and maintenance are set out in the Oasys Software Licence and Support Agreement. All prices are subject to TAX at the current rate.
Prices and specifications are subject to change without notice – please ask for a written quotation.
Although every care has been taken to ensure the accuracy of all information contained herein, the contents do not form or constitute a representation, warranty, or part of any contract.
By completing and submitting this form you consent to Oasys Limited storing and processing the personal data you have provided. We will use this information to keep you updated about the products requested for customer service and sales analysis. We do not pass your details to third parties to use. For more information visit our privacy policy. You may opt-out at any time by emailing [email protected].
Please select what type of licence you would like to purchase
MassMotion
USD $11,362.09 – USD $28,036.53
Oasys MassMotion is the world's most advanced human movement simulation tool. Understanding the impact of human movement on spaces, MassMotion reduces risk in the design process and allows users to test operational scenarios without costly real-world trials. With advanced BIM import tools, a flexible user interface, and powerful analysis and visualization capabilities, MassMotion allows rapid testing and analysis of a wide variety of spaces. Communicate the effect of design changes to authorities and stakeholders and refine designs from a human perspective.
Description
Advanced pedestrian modelling software
Additional information
| | |
| --- | --- |
| Select your version | MassMotion |
| Select your licence | Standalone, Network Floating, Network Floating International |
| I would like to | 12 months Subscription (Pay annually), 36 months Subscription (Pay annually) |
What should I choose?
Standalone licenses are locked to an individual machine, but transferable by the user to another machine manually. Ideal for single users. Restricted to use within the country stated in the End User address submitted by Licensee to Oasys at the time of purchase.
Network Floating licenses can be activated on any number of machines, however you can only concurrently use the number of licences that you have purchased. Ideal for users requiring more flexibility or when working as part of a team. Restricted to use within the country stated in the End User address submitted by Licensee to Oasys at the time of purchase.
Network Floating International licenses can be activated on any number of machines, however you can only concurrently use the number of licences that you have purchased. Ideal for users requiring more flexibility or when working as part of a global team. Eligible for deployment world-wide at the Licensees leisure.
*Prices shown are per year cost
Both Subscription options will allow you the right to use the software for the defined term, with the full maintenance and support service included for the duration. The price will be fixed for the duration of the agreed term after which it will automatically renew for the same duration at the then current price.
12 month pay annually – Single payment for the full term at the commencement of the Subscription period
36 month pay annually – Three annual payments split the cost over the Subscription period. All payments are fixed at the time of purchase and are not subject to variance over time. Lower annual cost in comparison to 12 month option.
"We have been using MassMotion for a good couple of months and we are very happy with the product. Having this tool has started to open up additional services to clients that we previously did not have and we are hoping that it will continue to grow."
Not sure what you're looking for?
Complete the form below and a member of our expert team will be in touch to discuss how we could optimise your project and workflow