Project Overview
In partnership with Strasman Architects Inc (SAI), TraffMobility has developed a pedestrian simulation model using Oasys MassMotion to simulate the operations of a multi-modal transit hub. The model helps demonstrate the connectivity of building levels and mode transfers. This is shown with respect to the concourse area from across the pedestrian bridge and through the underground tunnel. 
How Oasys proved invaluable
Combining the team's capabilities in pedestrian modelling and architectural design, MassMotion allowed TraffMobility to take their work to the next level by demonstrating facility operations and the impact of design. These type of transit models can be further utilised to assess transit user experience with respect to journey times, mode transfer, and the optimisation of station layouts to manage peak hour demands. Dynamic pedestrian models are invaluable to optimising infrastructure design. 
In addition to transit stations, dynamic pedestrian models are a great way to visualise architectural design for other infrastructure, such as stadiums, hospitals, theatres, office buildings, and many more.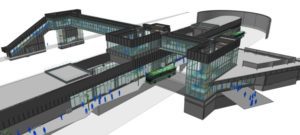 "Our team has developed dynamic pedestrian models to successfully inform complex design projects by producing comprehensive analyses and outputs including simulation videos. I'm particularly impressed by MassMotion's 3D environment which allows us to communicate the impact of design to our clients and stakeholders very effectively. "- Tavia Chow, TraffMobility's Practice Lead in Crowd Flow Modelling.
TraffMobility is a multi-disciplinary engineering firm that provides consulting services to public and private sector clients in the transportation sector. TraffMobility's team members have extensive experience in dynamic pedestrian modelling to support multi-disciplinary teams on a wide range of infrastructure such as transit stations, special event venues, stadia, and hospitals. 
"Architecture in a dense urban space, and specifically a multi-modal mobility hub, requires multiple connections in a complex, multilevel spaces. Pedestrian traffic in that context can be quite complex and the space can experience dynamic pedestrian volume shifts depending upon peak travel times, building operations and possibly emergency evacuations.

TraffMobility developed a data driven simulation of pedestrian movement throughout the facility using the MassMotion software. A detailed time-based animation and a heat map of the simulation allowed the design team to test multiple options in a variety of scenarios to validate that the design fully meets the needs of the users." – Strasman Architects Inc.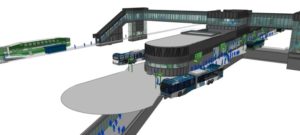 SAI are an experienced Canadian architecture and interior design firm, recognised for their highly collaborative approach to award-winning design. For over forty years, SAI focused on delivering elegant and sustainable solutions for technically complex projects. As Transit Specialists, SAI designs facilities for transit authorities throughout Ontario and across Canada, including for clients such as Metrolinx, TTC, Ottawa Transit, Calgary Transit and BC Transit.  
Oasys would like to thank TraffMobility and SAI for sharing this work with us. 
Find out more about Oasys MassMotion's capabilities and how it could make an impact on your projects here.