The compatibility of MassMotion analysis with the visualisation tools used by talented and insightful architects has produced animations that have blown our minds. They are communicating issues and revealing opportunities to resolve them with absolute clarity.
While safety still remains as the core priority of phased reopening, interior architects are also concerning themselves with ensuring that new occupancy levels and pedestrian routes do not compromise the vision and raison d'etre of a building. People should feel themselves to be welcome and valued visitors, not problems to be solved.  That calls for informed planning and rapid analysis and having a visual window on different scenarios. That's everything, in fact, that architects would have wished to have in their analysis and communication toolbox long before COVID-19, but with the addition of easy proximity modelling.
At Oasys we were quick to respond to the urgency and bring forward the release of new tools for proximity modelling, tailoring them for the COVID emergency. They are now a standard feature of our MassMotion pedestrian movement analysis software, and drop down menus make pandemic social distancing parameters easy to set.
MassMotion continues to be at the leading edge of pedestrian movement analysis.  Used by consulting engineering and structural design practices of all sizes, it has more-recently become popular with interior architects, especially since its migration to a subscription model which makes it even more accessible.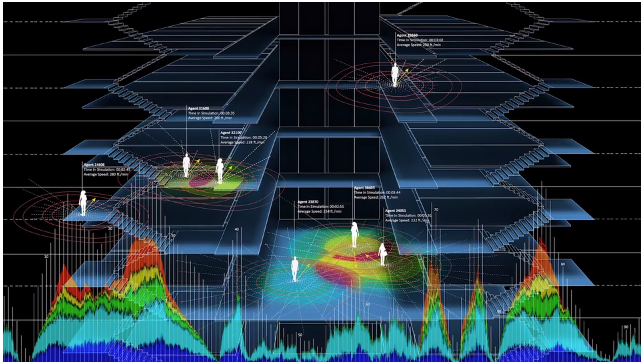 The image shows the work of the Efficiency Lab for Architecture. They were commissioned to help an international school with campuses across the world achieve its objective of being in the vanguard of educational establishments that reopen for face-to-face instruction. This is alongside remote and satellite teaching and learning offerings. You can see one of their comprehensive visualisations here. The Efficiency Lab team is currently developing a paper on their (remarkably quick) learning curve with MassMotion from an architectural designer's viewpoint. We'll share it with you as soon as it becomes available.
Find out more about MassMotion's capabilities, its licensing and Oasys user support here.
Require more information?