Join Oasys at the Institution of Structural Engineers
Solving Structural Vibration Challenges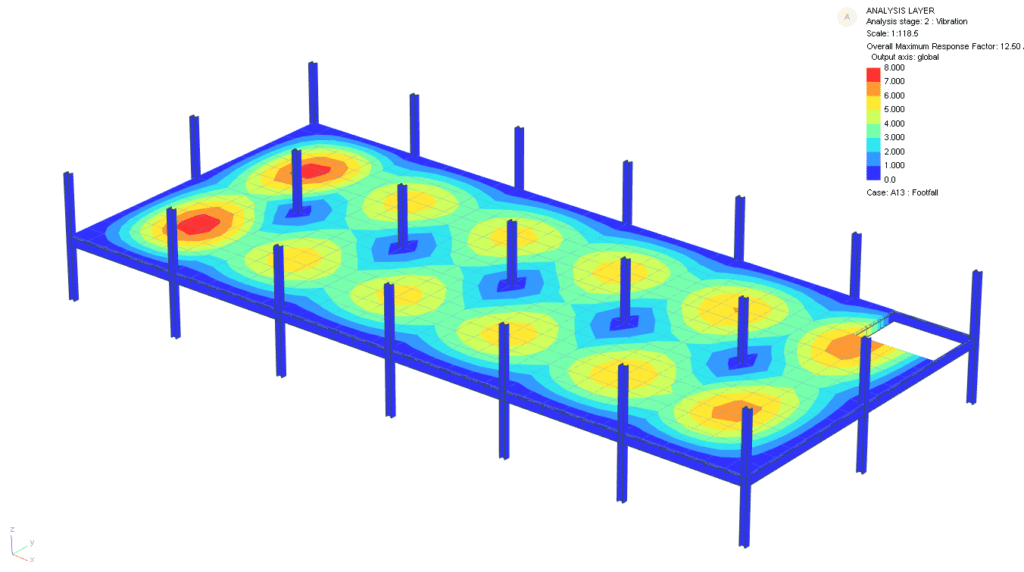 Analysing structures for seismic and human induced vibration
Vibration can be a major design challenge for any structure, from the serviceability problems of footfall vibration to ultimate limit state of earthquake loading. This workshop will explore the essential theory and analysis methods. It will also include a practical workshop demonstrating how you can solve these problems.
Registration
09:00 – 09:30
Session 1
09:30 – 10:15
Dynamic Modal Analysis
Dr Ramaseshan Kannan, Oasys Senior Developer
Dynamic modal analysis is the basis of how we can understand how buildings and bridges respond to vibration actions, whether large or small. Dr Ramaseshan Kannan will explain how dynamic modal analysis works, what to be aware of, and how you might apply software to solve these problems.
Session 2
10:15 – 11:00
Seismic Analysis
Marc Easton, Arup Senior Engineer
Seismic events are a major danger to buildings in many parts of the world. Marc Easton will explore the design approach to make earthquake-resistant buildings and what analyses you can use to check their robustness.
Session 3
11:00 – 11:45
Footfall Analysis
Michael Willford, Arup Fellow
As structural designs become lighter and more efficient, human-induced vibration is increasingly problematic. In this session, Arup Fellow Michael Willford will help you understand footfall vibration and discuss how you can address the resulting problems.
Session 4
11:45 – 12:30
Practicalities of Modelling for Dynamic Analysis
Professor Peter Debney, Oasys Application Specialist
Modelling for dynamic analysis requires a slightly different approach to than for static analysis. In this workshop Peter Debney will explore with you good practice for creating models and running analyses with Oasys GSA. All attendees will receive a free 15-day license of GSA. Please bring your laptop with you to get the most from this session.
Speakers
Dr Ramaseshan Kannan, Oasys Senior Developer
Ramaseshan Kannan has been at Arup for 14 years developing Oasys GSA. He holds a Master's degree in Civil Engineering and a PhD in Numerical Linear Algebra. Ramaseshan coordinates academic research and technology transfer and sits on the editorial panel of ICE Journal of Computational Mechanics. His work includes writing FE solvers, matrix algorithms, structural dynamics, machine learning, and training engineers in the proper use of FE analysis.
Marc Easton, Arup Senior Engineer
Marc has been with Arup for seven years and has become an expert on the seismic design of tall buildings, especially in Latin America. Marc is also Chair of the Council on Tall Buildings and Urban Habitat's Future Leaders committee in the UK
Michael Willford, Arup Fellow
Michael has over 40 years' experience as a structural engineer and is the leader of Arup's Advanced Technology and Research division. He is an expert in all forms of structural dynamics. He is co-author of the Concrete Centre's A Design Guide for Footfall Induced Vibration of Structures and was a member of the Arup team that developed new guidance on synchronous lateral excitation on crowded footbridges.
Prof Peter Debney, Oasys Application Specialist
Peter is a Chartered Structural Engineer and has been looking after the Oasys structural programs' users at for over 15 years. He is a member of the IStructE Digital Workflows and Computational Design panel and is also a Visiting Professor at Bradford University. Peter's lecture on Mistakes in FEA modelling is the most watched video on the IStructE YouTube channel.
Event Details
Date: 6 June 2019
Venue: The Institution of Structural Engineers, 47-58 Bastwick Street, London, EC1V 3PS
Time: 09:00 – 12:30 followed by refreshments and lunch
Price: Free
Register to attend HERE.