We are proud to announce that our very own Peter Debney, Oasys Support Manager, has won the Lewis Kent Award for his, "dedicated service to the institution over a period of many years," awarded by The Institution of Structural Engineers at the 2021 Nominations Committee Awards.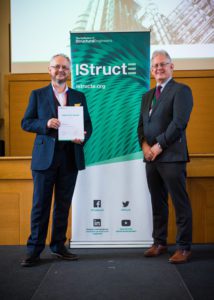 Peter is an honourable member of our team here at Oasys with over 30 years' experience. This is demonstrated by some of his works such as his involvement in the Digital Workflows and Computational Design panel and his best-selling book, 'Computational Engineering, Arup Digital Engineering | Oasys Software'. Peter has spent a substantial amount of time looking at more extensive topics featured in his papers where he delves deeper into different avenues: Footfall Vibration and Finite Element Analysis; An Introduction to Engineering Optimisation Methods; The Engineer of the Future is a Centaur.
It is no surprise to us that Peter is being commemorated for his commitment to this field. We are delighted to be able to share this news and to be able to celebrate with Peter this achievement which is wholly well deserved.
Require more information?