Once again, Oasys is a proud sponsor of the IStructE Structural Awards, which will take place in London on 15th November.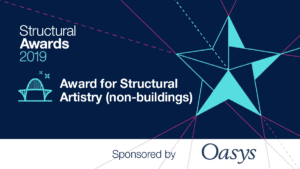 Widely recognised as the premier awards in the structural engineering world, the Institution of Structural Engineers' showcase for engineering achievement has been celebrating structural engineers as innovative, creative design professionals for over 50 years.
Oasys was founded to support engineers at the cutting edge and our software is used by the professionals working on projects across the board. Once again, we have chosen to sponsor the Award for Structural Artistry (non-building structures), celebrating projects where the imagination of the engineer has, perhaps, the freest rein. The formal definition of the category is that it is open to projects where an adequate and worthy solution was transformed by the vision and skill of the structural engineer into something exceptional.
The shortlisted entries in this category include Vessel in New York, the Porsche sculpture at Goodwood, the Gate of Chongqing Longhu Park, and the Vatical chapel in Venice.
Other shortlisted entries among the 55 finalists across 12 categories include The V&A Dundee, Coal Drops Yard in London, the CITIC Tower in Beijing, and the Space Needle in Seattle.
We wish all Oasys customers with shortlisted projects the very best of luck, and we look forward to seeing the winners receive their due recognition at the Awards ceremony in November.
Require more information?