Company Details
Business Address: 13 Fitzroy Street, London, W1T 4BQ, United Kingdom
VAT Number: GB 524461265
PAN: AABCO7969C
Oasys Limited is a company registered solely in England with company number 01454051
Oasys is a registered trademark of Arup Group Limited.
Date of incorporation: 15th October 1979
Bank Transfer Details
Bank details will be shown on your invoice, which is emailed to you at the time of placing an order
Quality Assurance
Oasys Ltd implements a Quality Management System (QMS) that is certified to ISO 9001. Our engineering products are designed, developed and tested in accordance with procedures set out in this QMS. The certificate of approval for our QMS can be seen here.
LS-DYNA is developed under a separate Quality Management System (QMS) to that of Oasys Ltd. For details of LS-DYNA's QMS and its certification to ISO 9001 please email dyna.support@arup.com.
Cyber Essentials Certificate
This Certificate certifies that the organisation was assessed as meeting the Cyber Essentials implementation profile published in April 2014 and thus that, at the time of testing, the organisation's ICT defences were assessed as satisfactory against commodity based cyber attack. The certificate of approval can be seen here.
Development Partners
Oasys has relationships with the following companies:

Oasys Ltd is a wholly owned subsidiary of Arup Group Ltd. Arup is a global organization of consulting engineers, planners and project managers working in all areas of the built environment, infrastructure, transportation, water, vehicle engineering etc.

Oasys and Arup have been distributing and working with LSTC for over 15 years. Oasys markets its own peripheral software, Oasys PRIMER, D3PLOT and T/HIS, all fully compatible with LSTC's LS-DYNA, aiding speed of model preparation and interpretation of results.

The Minds Eye provide computer visualisation and multimedia software development services. They specialise in the development of plug-ins for Macromedia Director. The Minds Eye provide Oasys Ltd with software development resources and licences of their software tools.

We licence the Open Design Alliance (ODA) Teigha™ software development platform for manipulating CAD data.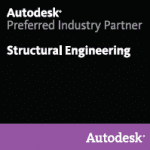 Oasys are an Autodesk Preferred Industry Partner for Structural Engineering applications and strive to extend and improve the connectivity between our products.