For the first time ever, Oasys LS-DYNA users from across the globe came together virtually at this free online event.
Virtual exhibition
The virtual exhibition room allowed attendees to:
hear from Oasys software developers about the latest features of Oasys Suite 18.0
learn about the roadmap for LS-DYNA
find out how others are using the software
hear more about D3PLOT Viewer – a brand new way of experiencing the Oasys LS-DYNA Environment
access top tips for getting the best out of the Oasys software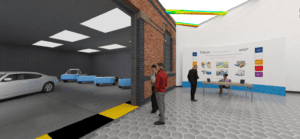 The virtual exhibition room is open again to introduce more information about the new features of Oasys Suite 19.0.
---
Presentations
Keynote presentations from the event are now available on our YouTube channel via the links below.
---
Speakers
Peter Young
Oasys LS-DYNA Director, Arup
Peter Young is a Mechanical Engineer and Oasys LS-DYNA user by background, with a long Arup career focussed on structural dynamics and vibration. Peter now leads the global Oasys LS-DYNA business within Arup, setting the strategy and direction for how we support clients around the world.
Alex Pett
Lead Product Manager, Ansys
Alex Pett is a Product Manager within the Mechanical Business Unit at Ansys. He has been with the company for 14 years and is a chartered mechanical engineer by training. During his career at Ansys he has worked in various technical roles from consultancy to technical support and has spent the past 5 years product managing the Ansys non-linear structural dynamics tools including Ansys LS-DYNA.
Gavin Newlands
Oasys Product Manager, Arup
Gavin Newlands is a Mechanical Engineer and has worked at Arup for 20 years, using analysis to solve complex engineering problems. Gavin is Product Manager for the Oasys Suite, a tailored suite of complementary tools that give you the power to prepare LS-DYNA models, interpret results and share solutions.
Mr Sunil S Dandge, Manager
CAE Laboratory, Automotive Research Association of India
Mr Sunil S Dandge is a Mechanical Engineer with more than 14 years' CAE experience in crash / impact simulation in automotive and related industries. He is well versed with AIS, ECE and FMVSS vehicle crashworthiness and safety standards and has contributed to the formulation and revision of Automotive Indian Standards.
Dr André Haufe
Head of Process Simulation and the Materials Competence Centre, DYNAmore GmbH
Dr Andre Haufe is an Engineer with a strong focus on structural mechanics, statics, and dynamics. After receiving his Ph.D from University of Stuttgart and being awarded a DAAD post-doctoral scholarship for the University of Calgary, he joined DYNAmore GmbH. As a partner, he's Head of Process Simulation and the Materials Competence Centre as well as major R&D activities.
---