Main event dedicated to LS-DYNA in Central Europe
The conference will take place in Bamberg, Germany and online
A key LS-DYNA event in Europe, the event will have around 100 technical presentations, keynotes from renowned speakers and an accompanying hardware and software exhibition.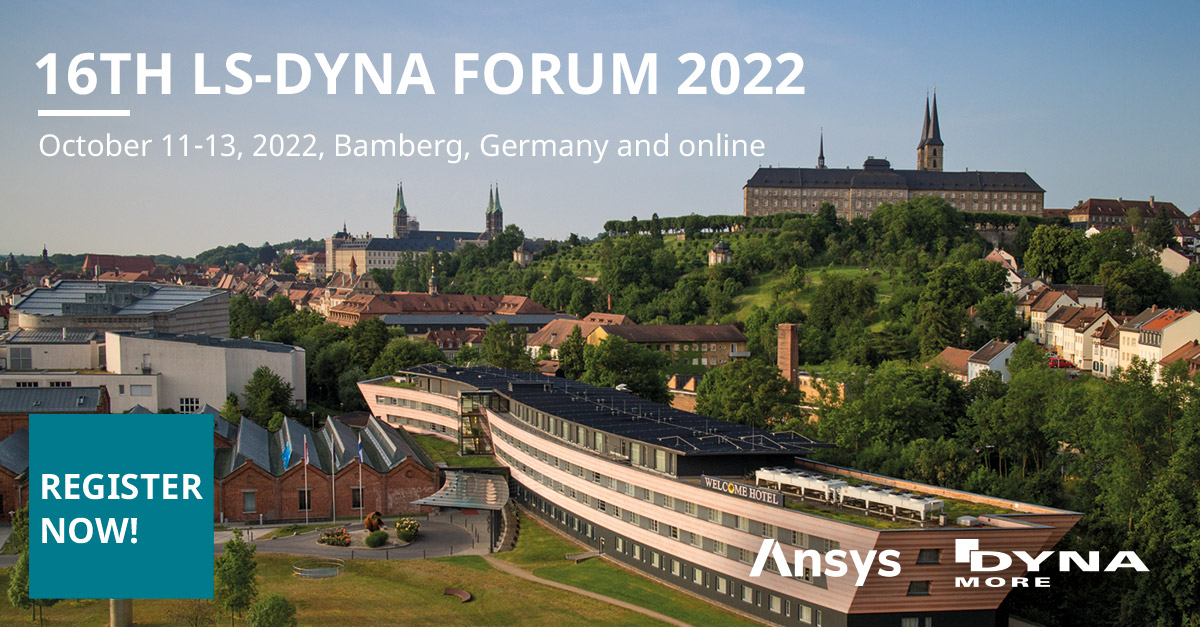 ---
Outline schedule
Monday 10 Oct 2022 from 6 pm CET : Get together in the exhibition and conference registration
Tuesday 11 Oct 2022 from 8 am CET : Start of the conference
Tuesday 11 Oct 2022 from 8 pm CET : Gala Dinner
Wednesday 12 Oct 2022 from 8:30 am CET : Second conference day
Wednesday 12 Oct 2022 : Day 1 Online Conference
Thursday 13 Oct 2022 : Day 2 Online Conference
---
Agenda
Agenda is now available on DYNAmore's website. Click here to view the detailed plan.
---
Meet the Developers
On Monday, 10 October 2022 Ansys will host the pre-conference event "Meet the Developers".
To be part of it, please click the corresponding box when registering for the LS-DYNA Forum. Please register here.
---
Join us at the event
Our team will be participating in this event and you will be able to visit us at our Oasys LS-DYNA exhibition stand.
Here are the talks and workshops delivered by Arup:
Tuesday, 11th October 2022 11:45 am – 12:45 pm
Simulation and Physical Testing of an Innovative 'floating' Shallow Mount Hostile Vehicle Barrier
J. Farley (Arup)
Tuesday, 11th October 2022 2:00 pm – 3:40 pm
ROOM V
WORKSHOP I
Further enhancing your pedestrian protection analysis through the Oasys LS-DYNA Environment
H.Buttery (Arup) and K.Lampl (Arup)
Wednesday, 12th October 2022 1:15 pm – 2:35 pm
ROOM II
OCCUPANT SAFETY II
Robustness Analysis of Passenger Airbag Out-of-Position Deployment Using LS-DYNA and DIFFCRASH
T. Ishizuka, M. Okamura (JSOL), R. Taylor (Arup)
Wednesday, 12th October 2022, 10:30 am – 12:10 pm
ROOM VI
WORKSHOP II
Achieving a full human body positioning workflow in your LS-DYNA environment, utilising Oasys PRIMER
G.Mohamed (Arup) and E.Owen (Arup)
---
Exhibition and Sponsoring
The event provides opportunities to raise your profile in the LS-DYNA industry via exhibition or sponsorship. More details on the packages is available at the conference website.
---
Find out more
Information on fees and how to registered can be found at the conference website.
---
The Oasys LS-DYNA Team at Arup looks forward to seeing you at this event.