Xdisp – Xdisp gives large displacements adjacent to the ends of the common side of two joined excavations, why?
When modelling complex composite excavations it should be borne in mind that Xdisp sums the displacements arising from all the individual excavations in a model and that either the sides of excavations or their corners can have an influence on displacements.
Consider the plan below, which illustrates 4 detached excavations.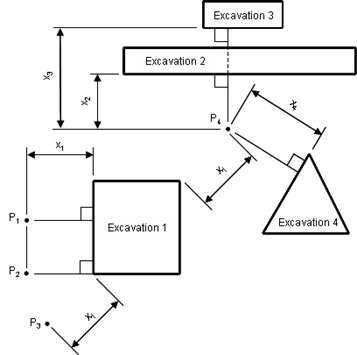 The horizontal and vertical movements of position P4 will be calculated as the sum of the results calculated for each of the four excavations.
Ground movements at P4 are not only influenced by those sides of excavations from which a line can be subtended to the displacement point, but also from the corners of those excavations which do not have such a side, e.g. Excavation 1. It is those corner effects that are germane to this discussion.
How would the results for a large rectangular excavation be affected if it were modelled as two constituent excavations adjacent to each other, each representing half the plan area?
The contour plots below, showing sample vertical displacements, provide an illustration of such models. (All plots have the same contour intervals.)
(1)
Single rectangular excavation of plan dimensions L x W, and depth D. Identical ground movement curves for all walls with no corner stiffening:
 
(2)
Twin excavations each of plan dimension L/2 x W, and depth D, with identical ground movement curves assigned to all sides and no corner stiffening…
 (2.1)
 …widely delatched:
(2.2)
 …attached:
 
Note the increased displacements adjacent to the ends of the common side.
 (3)
Twin excavations with dimensions as (2), but with no ground movement assigned to the walls that will form the attachment…
(3.1)
  …widely delatched:
 (3.2)
  …attached:
The increased displacements adjacent to the ends of the common side are reduced in area and magnitude, but still evident when compared to the results for the single excavation shown in (1).
The effect of Xdisp's calculation of ground movements around corners is to produce higher ground movements adjacent to the junctions of the two excavations in both cases (2) and (3) above than along the sides. Such movements can be reduced by assigning ground movement curves with no movements to those sides of the excavations that form the attachment, but they cannot be eliminated. The plot in (1) cannot be obtained by placing two excavations adjacent to each other.
Thus care should be taken when interpreting results if complex composite excavations are created by specifying many excavations that are contiguous e.g. with the intention of representing a single excavation, perhaps with varying depths and/or re-entrant angles.
It is intended that Xdisp will address this shortcoming in a future version of the software, perhaps by allowing corner effects to be specified as on or off for each corner of an excavation.