For the first time ever, we'll be bringing together Oasys LS-DYNA users from across the globe to join a free, online event providing updates about developments in the Oasys LS-DYNA Environment software.
Reserve your place →
About the event
Join from the comfort of your own desk to:
hear from Oasys software developers about the latest features
learn about the roadmap for LS-DYNA
find out how others are using the software
access top tips for getting the best out of the Oasys software
chat with our global team and industry colleagues in our virtual 'face-to-face' networking space
---
Virtual Exhibition and Networking
You'll join the event in the virtual exhibition which you can explore at your leisure to learn more about the Oasys LS-DYNA software. From here you can drop into an experimental 'face-to-face' networking room, grab a virtual coffee, and catch-up with our team and other attendees.
Whilst our speakers and team are only around on event day, the virtual exhibition will remain open until 14 May 2021 to ensure you have plenty of time to drop in after the event.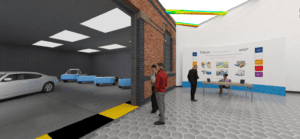 ---
Full agenda
During the day you can attend any of the presentation sessions below. We've now added an extra session in the middle of the day so you have more options to join.
The presentation sessions will be streamed using Microsoft Teams Live with speakers available to answer your questions live towards the end of the session.
Time (BST)
Presentation
Speaker
Duration
07:30 / 13:30
/ 16:30
1. Introduction and welcome
Peter Young
Oasys LS-DYNA Director, Arup
15 mins
07:30 / 13:30
/ 16:30
2. LS-DYNA update and roadmap
Alex Pett
Lead Product Manager, Ansys
30 mins
07:30 / 13:30
/ 16:30
3. Oasys Suite 18.0: latest release
Gavin Newlands
Oasys Product Manager, Arup
30 mins
07:30 only
4. Guest presentation
Sunil S Dandge, Automotive Research Association of India
30 mins
13:30 only
4. Guest presentation
TBC
30 mins
16:30 only
4. Guest presentation
Dr André Haufe, DYNAmore GmbH
30 mins
07:30 / 13:30
/ 16:30
5. Q&A
All speakers in session
15 mins
---
Don't forget to reserve your place here →
We look forward to seeing you on 29th April.